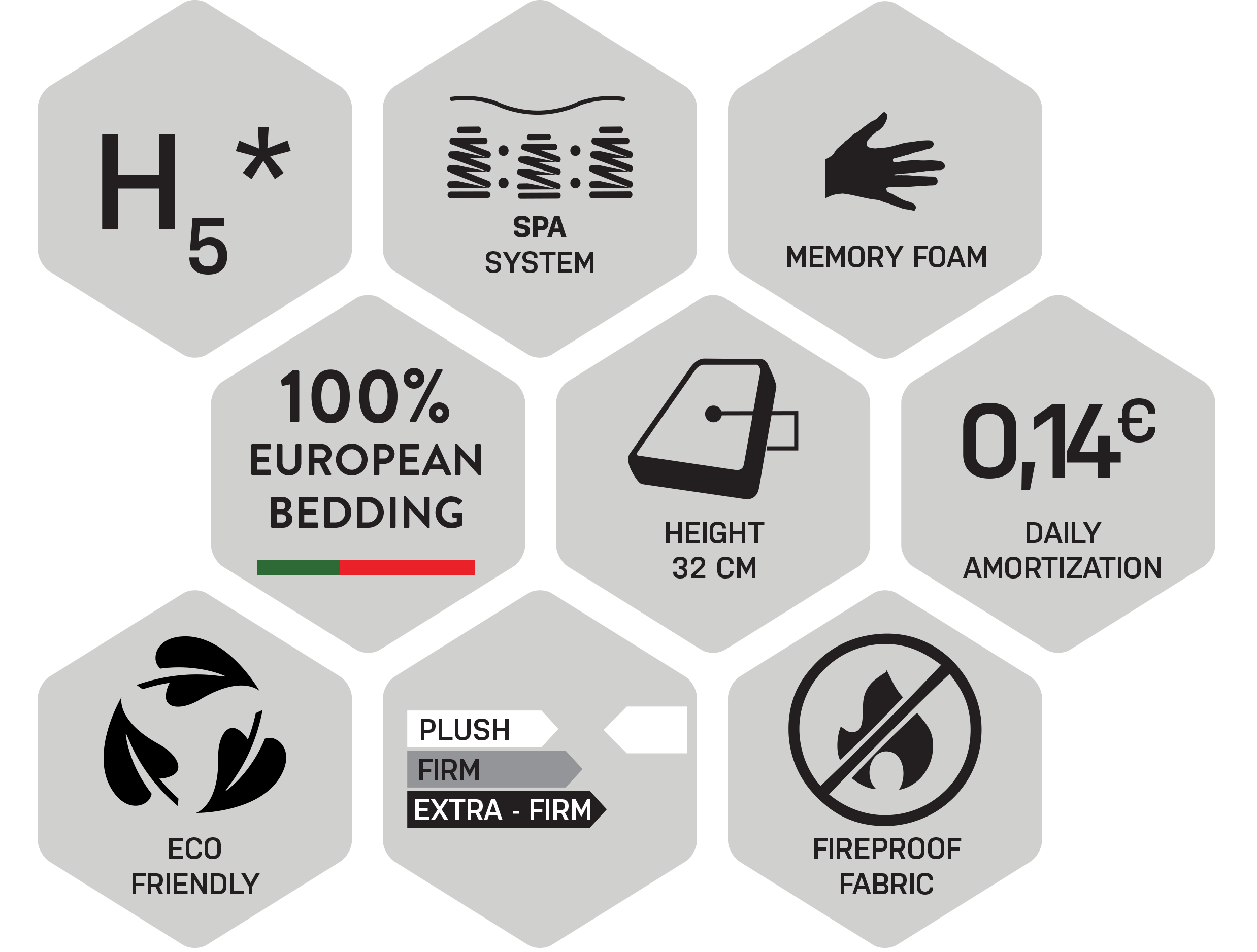 Billions of plastic bottles go into landfills every year. But now you can do something about it. REPREVE® is the leading, most trusted, branded performance fiber made from recycled materials, including plastic bottles. Buy products made with REPREVE® to make a difference.
Benefits
Suspension system Dual design that ensures the best support and adaptability. Allows internal ventilation.
The elastic visco allows an excellent adaptability to the contours of the body. Maximum comfort.
Safeside Box System, ensures that the entire surface area is useful.
Structure
Colmol SPA, Dual Design system for perfect control and stability.
Ergonomic and smooth to touch. Best comfort / firmness ratio, creating independent rest areas. Reinforced in the lower back.
Top Side Composition
Hypersoft foam, total adaptability, ensuring maximum comfort. Viscoelastic, self-molding, totally adapts to the contours of the body. Combination of profiled foam that maximizes ventilation and fibers hypoallergenic, 100% polyester, healthy, hygienic and antibacterial.
Fabric
Repreve® fiber fabric, made from recycled plastic bottles. It incorporates high performance properties such as humidity management, thermal regulation, odor control and resilience for high quality and durability.
With flame retardant properties (anti-fire), complies with UNE 597/1 and UNE 597/2 standards in force. It also has anti-pilling treatment.
Certified Repreve®, Recycled Content, Global Recycled Standard, Oeko-Tex® Standard 100
Zip Option
The mattresses are joined with central clasp, the pairs have the same identification number.
System

SPA

Foam

Memory Foam

Origin

100% European Bedding

Height

32 cm

Daily Amortization

0,14 €

Level of Firmness

Plush

Fabric

REPREVE® made from recycled plastic bottles